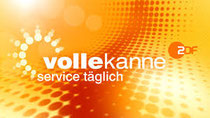 Am 29.08.2014 feiert die Sendung "Volle Kanne"(ZDF) ihren 15. Geburtstag. Thomas ist an diesem Tag zu Gast in der Sendung.
On 29/08/2014 the program "Volle Kanne" celebrates its 15th anniversary. Thomas is at this day as a guest on the show.

Bereits am 23.08.2014 könnt ihr Claudia und Thomas um 19:05 Uhr in einem "Ibiza-Special" in der Sendung "Explosiv-Weekend" (RTL) sehen.
Already on 08/23/2014 you can see Claudia and Thomas at 7:05 pm in an "Ibiza Special" in the show "explosive weekend" (RTL).