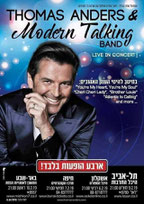 In diesen Tagen befinden sich Thomas Anders und seine Modern Talking  Band auf einer Konzerttour durch Israel.
Nachdem die israelischen  Fans bereits in Ashkelon, Haifa und Tel Aviv 4 fantastische Shows erlebten, findet heute das letzte Konzert in Beer Sheva statt. Einen Bericht über die Israel Tour veröffentlichen wir sobald wie möglich.

These days, Thomas Anders and his Modern Talking Band are on a concert tour in Israel.
After the Israeli fans already experienced 4 fantastic shows in Ashkelon, Haifa and Tel Aviv, today the last concert takes place in Beer Sheva. We will publish a report about  the Israel Tour as soon as possible.
"Halleluja" - a special song for the fans in Israel.